Western Fair issues take center stage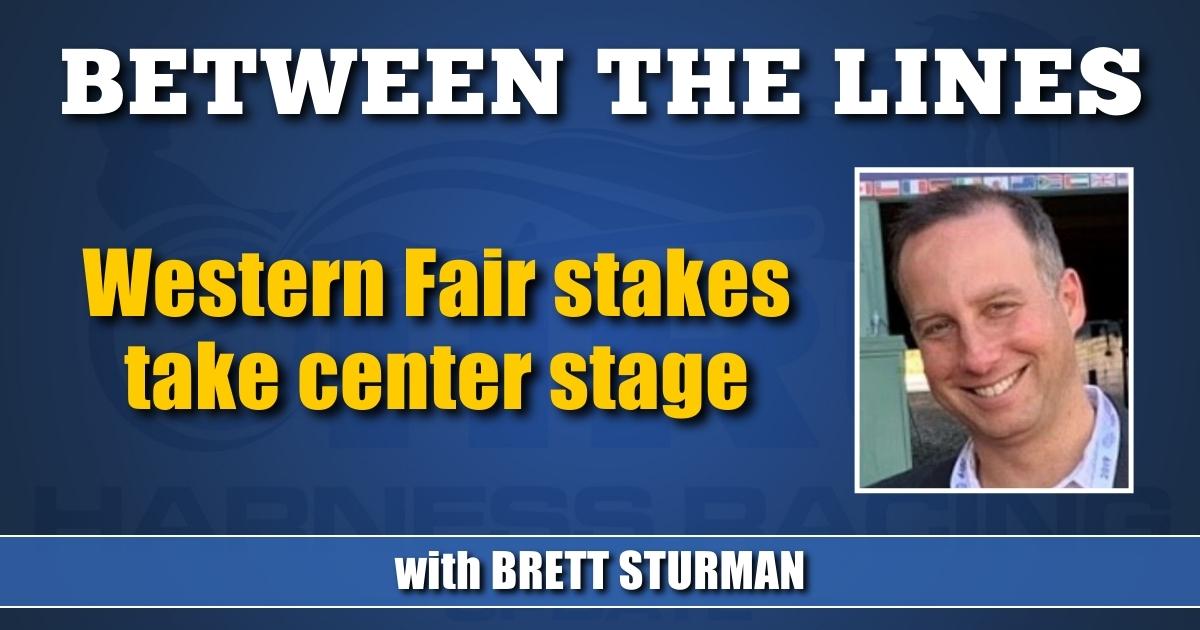 Plus a test of faith with the reigning Horse of the Year.
by Brett Sturman
After a break, the Camluck Classic and Forest City Pace take center stage tonight (May 27) as attention turns to The Raceway at the Western Fair District in London, ON. Also, a final word on Test Of Faith from last week's open Meadowlands.
THE RACEWAY AT WESTERN FAIR – $150,000 CAMLUCK CLASSIC RACE 11
London's flagship event returns for the first time since 2019 and attracts a highly competitive field of free-for-all pacers. The race went impressively, especially compared to Commodore Barry Pace competing at Harrah's Philadelphia the same weekend for horses in the same older pacing division.
With the exception of morning line favorite Jimmy Freight (6-5), all Camluck Classic horses have raced exclusively in the United States this year, until an FFA at Woodbine Mohawk two weeks ago that some of them used to prepare for this race. And the best chance of this American contingency is that of Tattoo Artist (9-5).
The tattoo artist is seeking redemption following unfortunate circumstances when he was well supported in the Borgata Pacing series finale in Yonkers a month ago. He returned to Woodbine two weeks ago and ran well, although he was narrowly beaten in a fast time. In that race, he gave in after making the front of American history and sat right behind that horse thanks to recent unusual fast splits of: 54.1 and 1:21.2. He finally overtook this rival, but perhaps he had taken too much from him before and had to settle for second place; having the advantage of the post on his main threat could be decisive.
What an incredible comeback story that continues for 7-year-old and former O'Brien winner Jimmy Freight. This Jimmy has been as automatic the past two months as the Jimmy of Hoosiers, and in winning his last FFA he equaled his career best time of 1:48.1 set three years ago. He took advantage of this run being able to sit well at a fast pace before launching his rally once ready, but it still took him a final quarter of :25.1 to get there and remains in sensational form ; feel he almost has to start from post 5 to have his best chance.
Funatthebeach N (9-2) is just a few races away from his upset victory in the Borgata Final and Stratton is the only American driver to have made the trip tonight for this race. Things turned out well for him that night in Yonkers, but some form of speed duel isn't out of the question in this race either; he purposely closed the last alongside Jimmy Freight. This Is The Plan (2-1) appears to be a wildcard of second tier position 8. I thought it was somewhat random throughout this Borgata series and wasn't surprised it was allowed to face the series finale. . He rode a fast mile last Saturday at the Meadowlands when all times were fast; was able to hang on to second place in this race after a pocket trip to the winner and numbers to be led well by Trevor Henry.
Poseidon Seelster (3-1) won a Borgata round in early April, although overall it looks like he's a step behind the leading pair. However, the rail here can obviously be a huge equalizer. Twin B Tuffenuff (4-1) is another who has the advantage of an inside post, but that's a big ask. Ocean Rock (8-1) upset in the Breeders' crown to finish last year and he was one of the top FFA horses in the sport at one point last summer; does not appear to have been served from position 6 as he made his first start since last November. The post would appear to be the final nail in any chance American history (15-1) would have had.
Choice: Tattoo artist, Funatthebeach N, Jimmy Freight
THE RACEWAY AT WESTERN FAIR – $50,000 FOREST CITY PACE RACE 10
As part of the open Camluck Classic fillies and mares, the $50,000 Forest City Pace returns to Western Fair for the first time in 10 years.
Gia's Surreal (2-1) won the Bluechip Matchmaker consolation three races ago and overall has proven over the past three years to be one of the best open mare pacers in the sport. Probably the class of the field, the advantage of an inside station here cannot be overemphasized enough.
The 2020 O'Brien winner So Much More (8-5) is tough to hit, although she will need to be used early from this position. She was off last week winning after being parked for almost three-eighths of a mile to make the front end, although I note that second place in this Kickupyaheels N race came back flat for what it's worth. Tough terrain tonight.
Dabarndawgswatchin (3-1) is coming into decent form and will see their cause further aided by the inside post. She probably should have won last week after initially running to overtake a leader from afar, but was caught by She's Nun Bettor N (5-2) who made a similar carefree trip. This 1:50.3 win by She's Nun Bettor N ties So Much More for the fastest win in Canada this year by a pacer mare, these two could get along early.
Dream Dancing (8-1) is the other mare trained by Moreau here (She's Nun Bettor N) but looks outmatched on paper. The same could be said for Snow Shark (10-1) who was racing lower level conditioned races not too long ago. Karma Seelster (4-1) took a quick 1:51.1 mark at Yonkers a few races ago by winning a Matchmaker stage (one of two she has won in this series), but it looks like 'she would need a few things to get her way. have a chance. Major League N (6-1) folded last week like a longshot; Guess I could be up close from the start of the second tier.
Choice: Gia's Surreal, Dabarndawgswatchin, Karma Seelster
A TEST OF FAITH
What happened at last Saturday's $31,500 open for fillies and mares at the Meadowlands should not be left unmentioned, as what happened is inexcusable.
In the race, Test of Faith – the reigning Horse of the Year – was ejected at odds of 1-9 and, from the start, was placed at a serious disadvantage. After inexplicably reclaiming last place in a field of six, all she could do was close late to get back up just for second place.
Last week, another HRU columnist, Debbie Little write a column which is now ironically named, Bettors Beware. The column was mostly about the ongoing tuck/no-tuck debate at the Meadowlands, but that same column touched on Test of Faith.
At the first Test of Faith race of the year on May 7, there was a similar uproar when she was dropped to last place in a full field of 10 as the tied favourite. The difference is that it was his first start of the season. It is well known that a horse in this situation will begin to reacclimate and anyone who knows anything will take that into account if they are betting on the race.
But then, on his next start, which was a graduate quarter leg, Test of Faith moved forward and won in 1:49.4. Now, in her third start on the heels of a grad win better than the one she ran against on Saturday, what could be the justification for not trying to walk out the door as a 1-9 favorite?
To make matters worse, with hot and humid temperatures, the track was playing very puffy. The times were lightning fast and the winner of every race the entire night was taken by horses placed in front.
It may be lazy of me to try to make this correlation, but harness racing management this year is down more than 13% from last year. You see runs like this, and I'm surprised it's not down 50%. If there is to be a predetermined strategy that would clearly go against any semblance of normal expectations, then this should be communicated to the judges and then to the audience in advance. Either that or simply remove the horse from betting for that race. Either way, this really shouldn't be allowed to continue.