Professionals take center stage at the next News, Brews & Beatz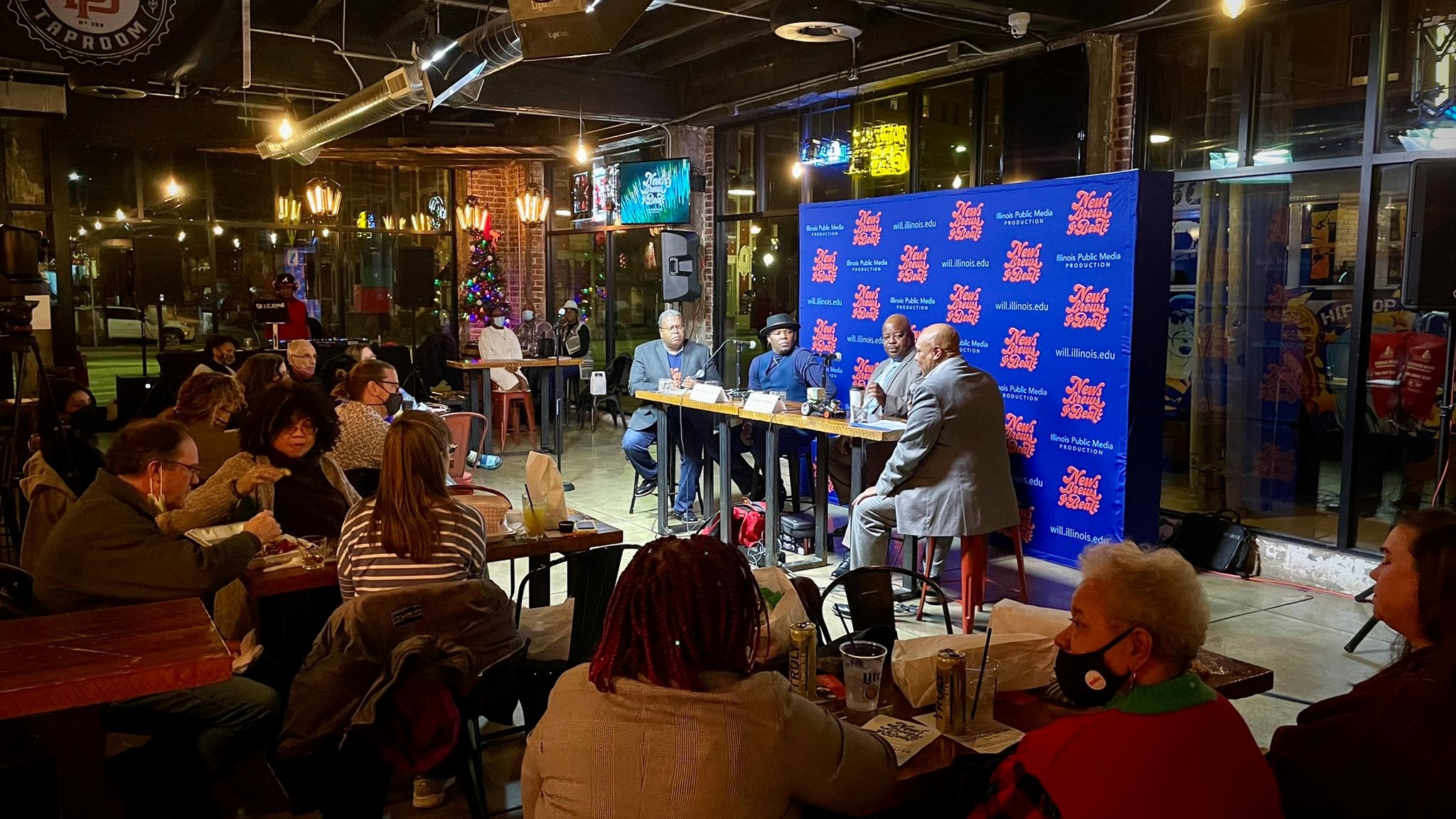 Illinois Public Media is committed to having calm and thorough discussions about gun violence reduction in Champaign-Urbana. Our fourth "News, Brews and Beatz" discussion takes place on the evening of Monday, May 9, 2022. Reginald Hardwick, Director of News and Public Affairs at Illinois Public Media, previewed the upcoming discussion with the Morning Edition host, Brian Moline.
---
Brian: What will be the focus for Monday?
Reginald: We will be talking to 4 professional men who come from all walks of life and have different views on how to impact this crisis. We'll talk with Lamont Holden, professor of music at the University of Illinois. He teaches music technology and how to create "hip-hop beats" to U of I students. We'll talk with Eric Minor, director of marketing at the University of Illinois. He grew up in Champaign, pushed by his parents to pursue studies. Samuel M. Smith also joins us. He is director of civic engagement and social practice at the Krannert Center for Performing Arts. And we'll speak with State Farm agent Joe Stovall. He grew up in Champaign, earned a degree in chemistry, and worked for Dow Chemical before embarking on a career at State Farm. As always, the co-moderator will be Tracy Parsons, Community Relations Manager for the City of Champaign.
Brian: Why talk to 4 professional men?
Reginald: The 4 men had varied experiences growing up in black communities and succeeding in their careers. Some of them grew up with 2 parents at home all their childhood. Some were raised by single parents. One panelist rose from an impoverished childhood in the South to attend private schools and colleges thanks in part to a teacher who cared for him. The 4 men have views on how we got here with the violence and some solutions that can help end it.
Brian: What is the status of violence in our community right now?
Reginald: According to the News Gazette, the City of Champaign recorded 34 shootings between January and the end of March. That's down from over 40 last year. Seventeen people were shot and killed last year in Champaign… and 10 in Urbana. These are historic highs.
Brian: News, Brews and Beatz started last fall. How did the discussions evolve?
Reginald: We went into all of these forums thinking about the root causes of the violence and having our experts, many of whom deal directly with the children of Champaign Urbana, have a conversation that is not widely heard. For example, our discussion in November was about mental health. Some of the shooters, who are teenagers or in their early 20s, have suffered trauma — such as childhood abuse — and have had no access to mental health services. It wasn't that their families didn't care. But affordable mental health care, especially for young adults, has been gone for years. Thus, the cycle of violence continues. Earlier this spring, we spoke with 4 local school principals. They talked a lot about the disconnect that many young people feel in this community because there are a lot of resources for college students but not a lot for elementary, middle and high school kids.
Brian: Where can people watch and ask questions on Monday nights?
Reginald: You are invited to come to the Pour Bros Tap Room in downtown Champaign. Take your seat in person before 6:00 p.m., the forum starts around that time. We will also broadcast the discussion on the Illinois Public Media Facebook Page and YouTube channel. If you're a beer connoisseur, you can buy a fresh brew from dozens of taps to pour yourself. If beer isn't your thing, that's okay – you can join me for a drink of water after all, it'll be almost 90 degrees on Monday afternoon! There will also be food to buy from The Stufft Bird in case you get hungry.
Brian: When does the "Beatz" in News, Brews and Beatz happen?
Reginald: Before and after our roundtable, DJ-Icy-Dre' will be playing old school R&B and Hip Hop. We also take a 15-minute break during the discussion. And while DJ Icy-Dre' plays music, a speed paint artist will create art to the music! Also, listen to the provocative poetry of artist Missy Richland. So yes, we will have important discussions but also fun and encourage conversations to continue long after our microphones are turned off.
Brian: Any themes coming out of all these forums?
Reginald: I don't want to sound cliché, but all of our experts, from mental health to schools to a midnight basketball program, say Champaign-Urbana needs to allocate resources and people to connect with young people . That includes Boys and Girls Clubs in more neighborhoods or having someone a teenager or young adults can call in the middle of the night when they're thinking of shooting or settling a gun dispute.
window.fbAsyncInit = function() { FB.init({ appId: '2269864749914972', xfbml: true, version: 'v3.1' }); FB.AppEvents.logPageView(); }; (function(d, s, id){ var js, fjs = d.getElementsByTagName(s)[0]; if (d.getElementById(id)) {return;} js = d.createElement(s); js.id = id; js.src = "https://connect.facebook.net/en_US/sdk.js"; fjs.parentNode.insertBefore(js, fjs); }(document, 'script', 'facebook-jssdk'));